The Garrett County Commission for Women is pleased to announce the inductees into the 2018 Women's Hall of Fame. The induction ceremony will be held on Saturday, April 7th (registration available at:  gccw2018.eventbrite.com Register by April 4th!) This year's inductees are the following: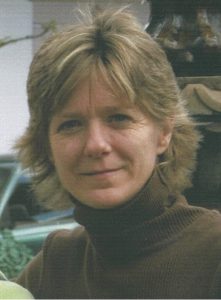 CAROLINE BLIZZARD
Caroline is the Lead Park Ranger and Director of the Discovery Center at Deep Creek Lake State Park and has been an employee of the Maryland Department of Natural Resources since 1993. A graduate of Allegany College of Maryland and Frostburg State University, she has strived to make Garrett County a better place to live while bringing focus to the many unique aspects of the area. Caroline's creative thinking in developing new programs has made an ongoing economic impact, increasing tourism to and interest in our state parks and the county overall. Under her leadership, the Discovery Center has become a "must see" destination. Caroline puts her heart in to educational programs including the Monarch Butterfly and Milkweed Protection Program, the Scales & Tales Program, and Deep Creek Park's Aviary for birds of prey. The entire land and water use of the park complex, the trails of Meadow Mountain, and the cultural resources of the Brant Mine are all under her coordination. Caroline was also the driving force in creating the interpretive plan for Sang Run State Park, specifically the renovation of the park and its historic structures including Friend's Store. Because of Caroline's efforts, thousands of visitors to Garrett County have developed an appreciation for our community. Because of Caroline's efforts, thousands of school children and adults have learned to value our natural resources, to honor habitat protection efforts and to appreciate cultural perspectives of our forests, waters, and native species.
One example of Caroline's many positive effects is the result of her awareness of an impending environmental catastrophe: the loss of butterfly habitat. She has coordinated with local teachers to develop "way stations" where students and visitors tag and release monarch butterflies as part of a citizen tracking of routes to wintering grounds in the mountains of Mexico and the life stages of the butterflies. Social studies, math, science and language arts are all supported through this program for Garrett County students in partnership with schools in Mexico. This work with students also includes gardening projects where students grow and distribute milkweed, the staple food source for monarchs, throughout the county.
Caroline Blizzard is a role model of leadership, community service, and environmental stewardship, especially for youth in our community and tomorrow's female leaders. Both students and adults look up to her as an expert who is following her passion and making a difference. For these and many other reasons, it is an honor and a privilege to induct Caroline Blizzard into the Garrett County Women's Hall of Fame.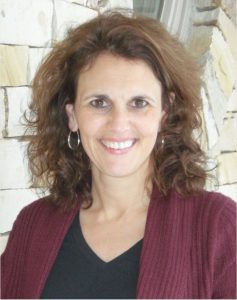 DR. DANA McCAULEY
Dr. McCauley has been an educator and active community citizen in Garrett County for nearly 30 years. As the teaching Principal at Crellin Elementary, Dana has been a transformational leader in the field of environmental and place-based education on both the local and national level. She has led the development of multiple programs that emphasize using the community as a means for student research projects and service learning. Dana has created a unique learning environment for the children of Crellin that will reap benefits in their individual lives as well as to our community for generations.
Dana and Crellin Elementary have received numerous national awards including the Ernest L. Boyer Center Award for Excellence in Character Education (2008); the Intel School of Distinction for Elementary School Mathematics (2011); the Richard A. Johnson Environmental Education Award (2012); and the Konrad Lindenberg Memorial Individual Award (2014). While these awards are characteristic of Dana's outstanding commitment to education and her community, her greatest accomplishments lie in her every day interactions with her students, staff and community families. She had a vision for reinvigorating her school and community, a vision she keeps alive by teaching civic responsibility to her students and encouraging them to care for each other and for their world. Her success involves caring relationships, healthy activities, and meaningful work all to the benefit the community while emphasizing children's skill-building over test preparation and hours of homework. Dana has created a blueprint for the way forward in education in America.
There are no barriers to whom Dana reaches out. While Dana's influence, inspiration and effect extend to both the young and the old, male and female, she strives to provide a strong female presence in the lives of the young girls within her scope of influence. Dana leads by personal example, showing that women can be positive leaders, pioneers, problem solvers, and catalysts for community change. It is Dana's personal mission to ensure her students understand they have no boundaries in realizing their full potential.
Dana has shaped the future of Garrett County. In her own words, "the collaboration that has occurred among the school family, project partners, and community has given our students a real sense of something larger – of making a difference in their community." The Garrett County Commission for Women is thankful for the passion, dedication and commitment of Dr. Dana McCauley, and we are proud to induct her into the Women's Hall of Fame.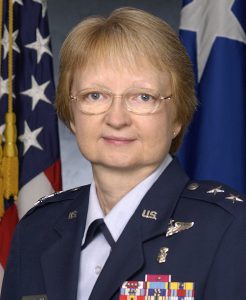 MELISSA A. RANK
Melissa Rank was born and raised in Frostburg, MD, and received her BSN from Frostburg State University and her master's degree in Nursing Administration from the University of Maryland at Baltimore. For more than 30 years, Melissa served as a nurse in the US Air Force and achieved the rank of Major General. She has been "in the trenches" in times of war and has received numerous military citations and awards. Her rise to Major General in this male dominated military speaks volumes about her leadership, organizational and collaborative talents.
Since returning to her roots in Western Maryland and retiring from military service, Melissa has been an accomplished local servant. She has made a difference in Garrett County impacting women's education and equity, community mental health, veteran's services, programs for the aging, and community outreach as part of her church. Since joining the Women's Civic Club in 2009, in spite of some significant health issues, she has been involved in many areas about which she is passionate. She has led the Civic Club craft group, has been active with The Treasure Chest at the Lighthouse, has shopped for Warm the Children, and volunteered at the Antiques Show. Currently, Melissa is President of the Board of Directors at The Lighthouse and now manages The Treasure Chest, which provides a safe and non-threatening environment where Lighthouse clients can purchase personal items and gifts. She also provides classes to Lighthouse clients in personal care and on medical issues clients may be facing. She was recently inducted into the Daughters of the American Revolution-Youghiogheny Glades. Since 2010, Melissa has been active in The American Legion post in Frostburg, delivering Memorial Day and Veteran's Day messages at many local events and coordinating the collection of personal care item which are delivered to the Veteran's Administration hospital in Martinsburg, WV.
Several years ago, Melissa started volunteering with the Garrett County Commission on Aging, helping them create a vision statement and write a reference guide for use by staff when working with Veterans at Community Action. As Council President for St. Paul's Methodist, she has coordinated a hot meal delivery program to elderly members of our community through the Commission on Aging and is involved in other community service projects.
In her retirement, Melissa continues to be active in the nursing community through leadership and mentoring programs and has been published in books on nursing in wartime. Her service to her community is always quiet without fanfare, speaking volumes about the selfless compassion in what she does and who she is. She was nominated for the Women's Hall of Fame by the members of the Women's Civic Club, and we are proud to include her in this year's inductees.
The induction ceremony will be held at a breakfast celebration on Saturday, April 7th, at 9:30am, at Dutch's at Silver Tree on Glendale Road at the lake. The three women who will be inducted will be in attendance at the breakfast, along with family members, several dignitaries, and members of the Commission for Women. The public is invited to attend. The cost for the breakfast event is $25 per person when purchased online at gccw2018.eventbrite.com before March 31st. Tickets can be purchased after March 31st at the door for $30. Questions may be directed to Judy A. Carbone, Chair of the Garrett County Commission for Women, at 301-616-5036.